Be sure to see the Calendar for more event dates... and Visit us on Facebook!
---

Poster (PDF) Annual Yard Sale 2012-Poster
---
Picnic on the Porch, Wednesday, July 18th, 6 PM
In addition to great food, our Picnic always features a fascinating Show & Tell!
---

Advanced reservations are required
Full Page PDF of this flyer

Full Page PDF of this flyer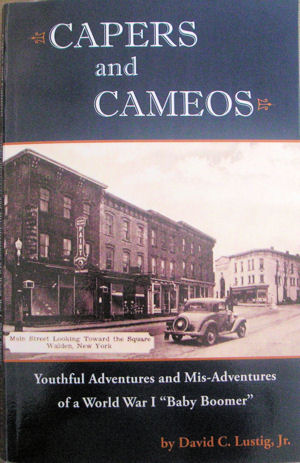 Capers and Cameos by David C. Lustig, Jr.
Our thanks to Dave who in addition to years of service as Trustee of the
Society, now "retired," has generously donated a $5 portion of each
book sale to the Historical Society.
Dave released Capers and Cameos in the summer of 2011.
His book presents the real life adventures of growing up in Walden in the 1930's
with his many lifelong Walden friends. Delightful compilation of short stories.
Books may be ordered by e-mailing Dave or by contacting the Historical Society