---


NOVEMBER 2016 was NY History Month but really EVERY month is History Month! Talk to an older relative, record their special memories and yours. Be sure to also put names and dates on the back of your favorite family photos!
---
Beautiful artwork by former Waldenite, Harry Lee. We have featured some of his work before and have others for future posting, but these three special because they are of Walden.

St. Andrews Episcopal Church

Christmas in Municipal Square, Walden, NY
---
And the Winner Is...
This lovely quilt, made and donated by the Country Quilters Guild of Pine Bush, NY,
was on display for our raffle at the Josephine-Louise Public Library in 2016.
Details on the drawing will be posted soon.
Thank You to all who supported us by buying raffle tickets!
---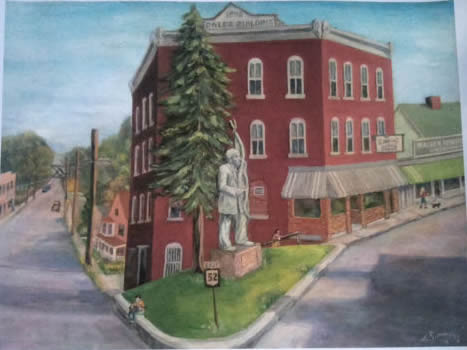 For sale: 16"x 12-1/2" color prints of an original oil painting by local artist, Ethel Eckler Simmons. It shows wonderful detail of the Fowler Building in Walden, and you can even glimpse "Old Scalper" in the distance on Route 52. Prints are for sale through the Society, unframed at $20. Limited quantities.
---
Membership
is open to anyone interested in preserving local history.
We encourage members to invite friends to join too.
Donations are always welcome and are tax deductible.