Welcome to the rich history of the Jacob T. Walden House located in Walden, Town of Montgomery, Orange County, NY (part of Ulster County until 1798).
---
7:30 PM, May 16th POSTPONED
to a future date due to
May 17th storm & power outages
Please check back soon for a rescheduled date.

Derrik R. Wynkoop, President & CEO of the Walden Savings Bank guests
on the history and anniversary of the Bank. Light refreshments follow.
---
7:30 PM, June 20th...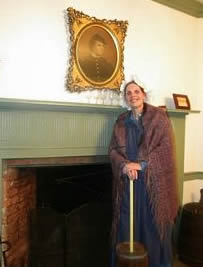 Author Robi Josephson returns to the Walden House to present,
"Hardscrabble Life in the Gunks,"
an illustrated talk about The Trapps, a vanished mountain hamlet of the
Shawangunk Mountains. Today, the lands between Lakes Mohonk
and Minnewaska are protected, but a century and more ago it was home to
250 to 300 people who scratched a living from a rocky and unforgiving land.
Learn just how hardscrabble a life it was, including the story of the Enderly family who lost seven members during the Spanish flu epidemic of 1918.
Robi's two books will be on sale, with 50 percent of the profits
being donated to the Historical Society. Light refreshments follow...