Print a listing of our Upcoming Events
---
Coming Up...
Please join us on Wednesday, June 19th
The Historical Society Welcomes
Derrik R. Wynkoop, President & CEO of Walden Savings Bank
as our guest speaker
Light Refreshments follow...
---
Tuesday, June 25th, 5-9 PM

FUNDRAISER
Dining to Donate at FRANCO's
Eat in or Take Out

Print Coupons or pick up at the Josephine-Louise Public Library in Walden
---
See our Calendar of events!
Trustees meet on the 4th Thursday of each month
at 7:00 PM at the Walden House unless otherwise noted...
~~~~
Monthly Programming resumes in April and will be held at the Jacob T. Walden House (unless otherwise noted) on the 3rd Wednesday of
April, May, June, September, October and November.

---
2019 Membership Form & Dues Renewal
New Members Welcome!
---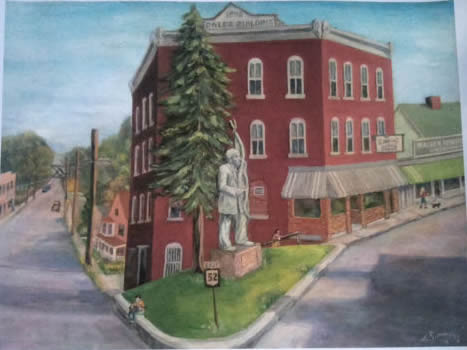 For sale: 16"x 12-1/2" color prints of an original oil painting by local artist, Ethel Eckler Simmons. It shows wonderful detail of the Fowler Building in Walden, and you can even glimpse "Old Scalper" in the distance on Route 52. Prints are for sale through the Society, unframed at $20. Limited quantities.
See other items for sale through the Historical Society.